This massive Asian ebony statue of Hanuman is from Indonesia. Based on style and age of the wood, the statue is about 100 years old. Asian Ebony is not true ebony but one of the heaviest and hardest Asian woods and has a natural color of black with dark orange/brown bands. The statue measures 81 cm. tall and weights roughly 20 kilograms or 45 lbs. The entire statue is carved from a single piece of Asian ebony, including the dragons' teeth and flames.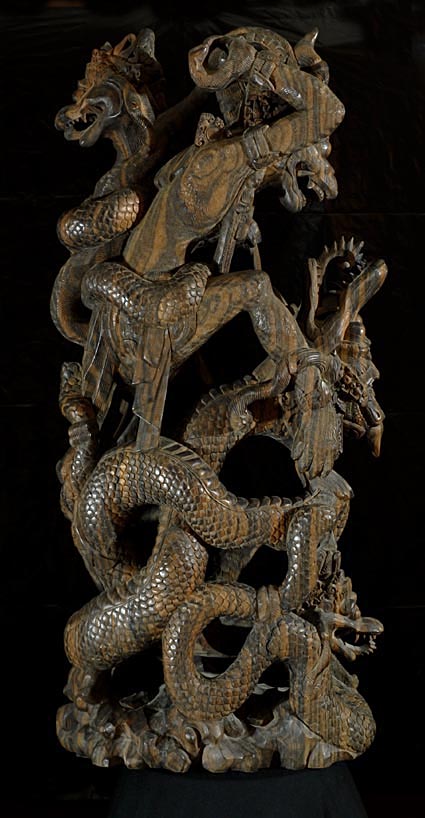 Hanuman
(
Sanskrit
:
हनुमान्
,) is a Hindu deity, who is an ardent devotee of Rama, a central character in the Indian epic
Ramayana
. A general among the vanaras, an ape-like race of forest-dwellers, Hanuman is an incarnation of the divine, whose fate it is to aid the hero Rama in the struggle against the demon king Ravana. His exploits are much celebrated in a variety of religious and cultural traditions,
particularly in Hinduism.
The statue shows Hanuman fighting the
demon king Ravana depicted as a multi-bodied dragon that
gracefully wraps around Haunman's powerful body.
Blowup of Hanuman showing detail and adornments. Hanuman's entire body is covered with a fur like carving. The wood is neither stained, varnished, or waxed. The natural finish comes from the wood's extreme hardness and natural oils.